Sharing our work
An important feature of the MoorLIFE project was sharing the results and best practice within the conservation and scientific communities.
This was achieved through the hosting of two well-attended conferences focusing on different aspects of the work as well as a seminar focusing specifically on the reintroduction of Sphagnum moss to the moorland landscape.
Site visits were also used to demonstrate the work that had taken place on the moorland.
MoorLIFE Final Conference – Upland Biodiversity
An Integrated Approach to Upland Biodiversity Conservation
The conference was held on 3 – 4 March at Dean Clough Centre, Halifax, to disseminate the results of the MoorLIFE project and hear from partners and the private sector and learn about the vision for the future of upland conservation.
Keynote Speakers:
Chris Mahon, Chief Executive, IUCN National Committee UK (IUCN NCUK)
Penny Anderson, Director, Penny Anderson Associates Ltd.
Presentations focused on six broad topics:
Impact of conservation on vegetation biodiversity
Bird conservation
Habitat restoration works and results
Communicating conservation works
Ecosystem services
A vision for the future
Field Trips
Black Hill: 10 years of conservation work in action
A science and monitoring-orientated trip to show the impact of conservation works on vegetation and biodiversity.
Rishworth Common: what the EU can do for you
A site visit to review conservation works and actions undertaken by the MoorLIFE project
Seminar – Sphagnum Reintroduction in Practice
Wednesday, 11 June 2014, Manchester Metropolitan University
On 11 June, practitioners and researchers got together to discuss the reintroduction of Sphagnum to peat bogs. Focusing on what methods are currently being used and what research is in place to support Sphagnum reintroduction, the event brought together current thinking on best available techniques and where we need to go from here.
Presentations covered five topics:
The remarkable Sphagnum plant – more holes than Blackburn Lancashire
History and context of Sphagnum re-introduction
Sphagnum re-introduction in the South Pennines
Research Update on Sphagnum reintroduction
The Future of Peatland Restoration
Workshops
Two workshops took place in the afternoon.
Conservation and Land Management
Sphagnum application at a landscape scale, best available techniques, lessons learnt and future options.
Research and monitoring
What are the knowledge gaps and when will we be able to draw conclusions from current works?
Results
The results from the workshops are available to download in our workshop summary.
MoorLIFE Opening Conference
Conserving moorland biodiversity: what does the future hold?
15 – 16 November 2010
Our 2010 conference focused on the conservation of moorland biodiversity – celebrating both the launch of the MoorLIFE project and the 2010 International Year of Biodiversity. The conference brought together experts from across sectors to help inform the delivery of a sustainable moorland biodiversity.
Presentations focused on four main topics:
State of knowledge and knowledge gaps
Impact of climate change
Delivery of biodiversity conservation and ecosystems services
Policies/ strategies that may help or hinder conservation initiatives
MoorLIFE Launch
The MoorLIFE project was launched in July 2010. The launch event took place on Black Hill with a keynote address from Poul Christensen, Chair of Natural England. This was followed by a guided walk on Black Hill to explain bare peat restoration and talk about techniques for reintroduction of Sphagnum.
Organisations represented included universities, Natural England, conservation bodies, charities and industry. 50 people attended the event.
Above Jim Dixon, Peak Chief Executive, and Narendra Bajaria, Chair of Peak District National Park Authority, Mr J Howard, tenant farmer & Poul Christensen, Chair of Natural England.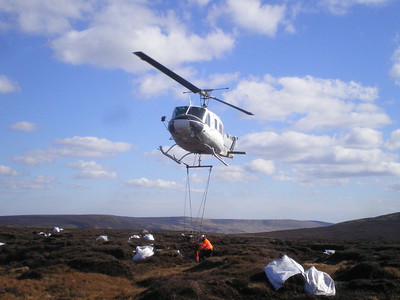 Sphagnum moss, beads and plug plants (top), Poul Christensen launches MoorLIFE (bottom).
You may also be interested in...
Funded by